Effective 2015, electronic equipment cannot be discarded in trash or recycling for DSNY collection. Residents can recycle working and non-working electronics through drop-off, trade-in, or mail-back programs (drop-off programs include Goodwill, Salvation Army, Best Buy, Staples, or the Gowanus E-Waste Warehouse). Electronics can also be brought to upcoming SAFE Disposal events.
Electronics covered under this ban include:
cable and satellite boxes
computers
fax machines
keyboards
laptops
mice
monitors
mp3 players
printers/scanners
small servers
tablets
tvs
vcrs/dvrs/dvd players
video game consoles
The fine to the building for non-compliance: $100

Smoking in public spaces in the building is not permitted for anyone, including shareholders:  it creates a health and fire hazard; it causes a nuisance for people who are trying to climb the stairs; and it poses an extraordinary challenge to our effort to keep the public areas decently clean.
If you do not permit people to smoke within the confines of your apartment, then please understand that you need to ensure that they go all the way outside of the building before they light up.  You cannot smoke in the stairwell, nor can your guests or visitors.  And you cannot leave your cigarette butts on the stairs.
Please note the relevant House Rule:
"16. (d) No one may smoke in the pub­lic halls, stair­ways, ele­va­tors, laun­dry rooms or other Public Spaces of the Building"
The 100 year old Washington Heights Library finally reopened on Monday, 3 March 2014 after a four years $12.4 million renovation and new technology, including 65 computers and touch screens for public programs.
The 17,000-square-foot library now has an airier design, with new furniture, elevators and wheelchair lifts. The library also features 24 Apple iMacs – only the third in the system to feature Apple computers.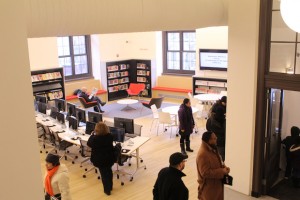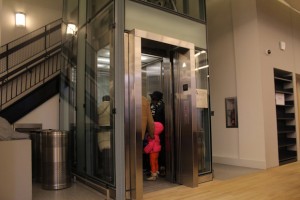 Washington Heights Library
1000 St. Nicholas Avenue (at W. 160th St.)
New York, NY 10032-5202
(212) 923-6054
Library Manager: Vianela Rivas
Monday
Tuesday
Wednesday
Thursday
Friday
Saturday
Sunday
11:00 AM –
7:00 PM
11:00 AM –
6:00 PM
11:00 AM –
7:00 PM
11:00 AM –
6:00 PM
10:00 AM –
5:00 PM
10:00 AM –
5:00 PM
CLOSED