[This post is based on the article by grownyc.org]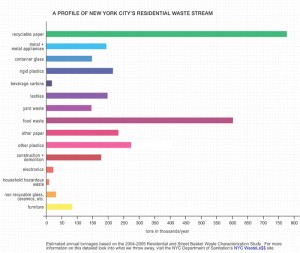 Around 40% of NYC's waste can be recycled through the curbside recycling program.
Recyclable Paper
Nearly a quarter of NYC's waste is recyclable paper! Be sure to recycle all clean paper. Reduce your carbon footprint further by taking your name off of mass mailing lists, reducing catalog waste, opting out of offers for credit cards and insurance and stopping unwanted telephone books–learn how at NYCWasteLess.
Metal & Metal Appliances
Recycle cans, clean aluminum foil and "mostly metal" household items with at least 50% metal content. Bulky metal such as shelves and appliances should be placed next to your recycling bins or bags on recycling day (call 311 first for appliances that require CFC removal such as air conditioners and refrigerators). Conserve even more resources by donating reusable metal items. For example, bikes and bike parts can be used by Recycle a Bicycle or Time's UP! to get more New Yorkers on two wheels.
Container Glass
Unbroken bottles and jars are recyclable through NYC's curbside recycling program. Empty and rinse containers and remove, then recycle, metal caps and lids. Recycle natural corks with Cork Reharvest using bins located at Whole Foods markets in NYC.
Rigid Plastics
As of April 23, 2013, New Yorkers can recycle all rigid plastics, including yogurt cups, plastic toys, salad containers, shampoo bottles, plastic furniture and plastic appliances. Learn more.
Beverage Cartons
Gable-top and aseptic containers (think O.J., milk, soy milk and boxes of soup stock) are included in the City's recycling program. Rinse and place with your glass, metal and plastic recyclables.
Textiles
Materials such as old clothing and linens represent almost 6% of NYC's waste. Recycle your unwanted textiles at one of GrowNYC's weekly textile collections at select Greenmarkets. Large apartment buildings can sign up for an in-building program through Wearable Collections or RefashioNYC. If your running shoes are worn completely, you can also recycle them through the Reuse-a-Shoe program, which makes them into athletic surfaces.
Yard Waste
4% of the residential waste in our concrete jungle actually comes from yards and green spaces. If you're lucky enough to have a patch of grass, leave it on the lawn after mowing. Collect fall leaves for compost and be sure to contact the Parks Department for proper removal of any tree prunings and other organic woody debris if you live in Brooklyn, Manhattan, Queens or Staten Island.
Food Waste
Why let your food scraps go to waste? There are several local programs offering composting to turn your coffee grounds, vegetable trimmings and other organic materials into "black gold" to fertilize flowers, vegetables and trees sans harmful chemicals. 35 of GrowNYC's Greenmarkets now accept residential kitchen scraps for composting. Click here to find other community drop-off sites. You can also learn to make your own compost at home. Visit NYC WasteLess for more resources.
For food that is still edible, check out this handy interactive map from the NYC Coalition Against Hunger to find a soup kitchen or food pantry near you. Large volumes of canned food can be donated through the Food Bank for NYC. Contact City Harvest for information on donating large amounts of fresh, perishable and prepared food.
Other Paper
Certain types of paper such as tissues, napkins, food-soiled paper, laminated papers, cups, plates, and take-out containers are not recyclable in NYC. Reduce your use of single-use, disposable items and compost food-soiled napkins and paper towels that are free of toxic cleaners or other harmful chemicals.
Other Plastic
New Yorkers discard nearly 2,000 tons of plastic bags every week, not to mention the ones that land in trees and sewers rather than the trash receptacle. The key is to reduce your use of plastic bags. Use bags a second time for shopping, taking out the trash, or cleaning up after the dog. Clean and dry bags can be recycled at large retail stores and chains around the city, thanks to a recent law that requires recycling of plastic film such as shopping bags, dry cleaning bags and newspaper bags. Look for ways to reduce Styrofoam waste by bringing your own to-go cup, buying wisely at the supermarket and asking restaurants to use alternative packaging.
Construction and Demolition (C&D)
Reduce and reuse when you renovate. Save money by buying from and donating to NYC's building materials reuse center, Build It Green!. Visit their website to view the inventory of items like cabinets, doors, appliances, paint and even deconstruction services.
Electronics
Although they are a small portion of the waste stream by volume, computers and electronics contribute about 70% of the heavy metals in landfills. Consider donating working electronics. If broken, there are many recycling opportunities for these items. Find upcoming collection days on our Recycling Events page, visit Take It Back NYC for info on manufacturer and retail recycling at locations such as Best Buy, Staples and Goodwill stores. Recycling is easier than ever with the Lower East Side Ecology Center's new e-waste drop-off warehouse in the Gowanus section of Brooklyn. As of April 1, 2011, New York State Law requires manufacturers of many electronics to collect their products from residents at no charge. Be prepared for 2015, when certain electronics will be prohibited from residential trash.
Cell phones are easy to recycle, due to a NY State law requiring any store selling cell phones to take them back for recycling. You can also recycle or refurbish your old phone for a cause through many charitable organizations.
Recycle CDs, floppy disks, VHS tapes, etc. by purchasing a Technotrash bin from Green Disk or recycle select media at Best Buy.
Household Hazardous Waste (HHW)
Most of NYC's HHW consists of dry cell batteries and water-based paints & adhesives, but also includes oil filters, antifreeze, wet cell batteries, motor oil, fuel, mercury wastes, oil-based solvents, paint, pesticides and fire extinguishers. Whenever possible, avoid buying harmful materials that create disposal hazards. Learn more about reducing toxins in your waste.
The NYC Department of Sanitation's Special Waste Drop-Off Sites accept household and automotive batteries, fluorescent bulbs, mercury thermometers and thermostats, motor oil, transmission fluid, latex paint and passenger car tires. In Spring 2013, DSNY's NYC SAFE Disposal events will accept electronics and other potentially harmful household products like batteries, paint, pesticides and medicine.
Rechargeable batteries are prohibited from household garbage and must be recycled. NYC stores must recycle the same type of rechargeable batteries that they sell. Cell phones and their batteries can be returned to any store that sells these mobile devices. Select Greenmarkets have collection bins for cell phones and rechargeable batteries or you can visit www.RBRC.org to get a bin for your apartment building.
Compact Fluorescent Light bulbs (CFLs) save energy and last much longer, but contain mercury and should be disposed of responsibly. Get more info on light bulb recycling and find a drop-off site at www.grownyc.org/CFL.
Some local members and partners of the National Community Pharmacists Association accept pharmaceuticals for safe disposal. For more information on safe handling of household medical wastes visit NYC WasteLe$$.
Miscellaneous Inorganics and Non-Recyclable Glass
Reuse old windows (see C&D), mirrors and unwanted ceramics where possible.
Furniture
Many thrift stores and non-profit organizations can help provide good homes for unwanted furniture. Search by borough, zip code or find citywide listings using NYC Stuff Exchange. You can also look for takers through Craigslist.org and Freecycle.org.
Category: Latest News